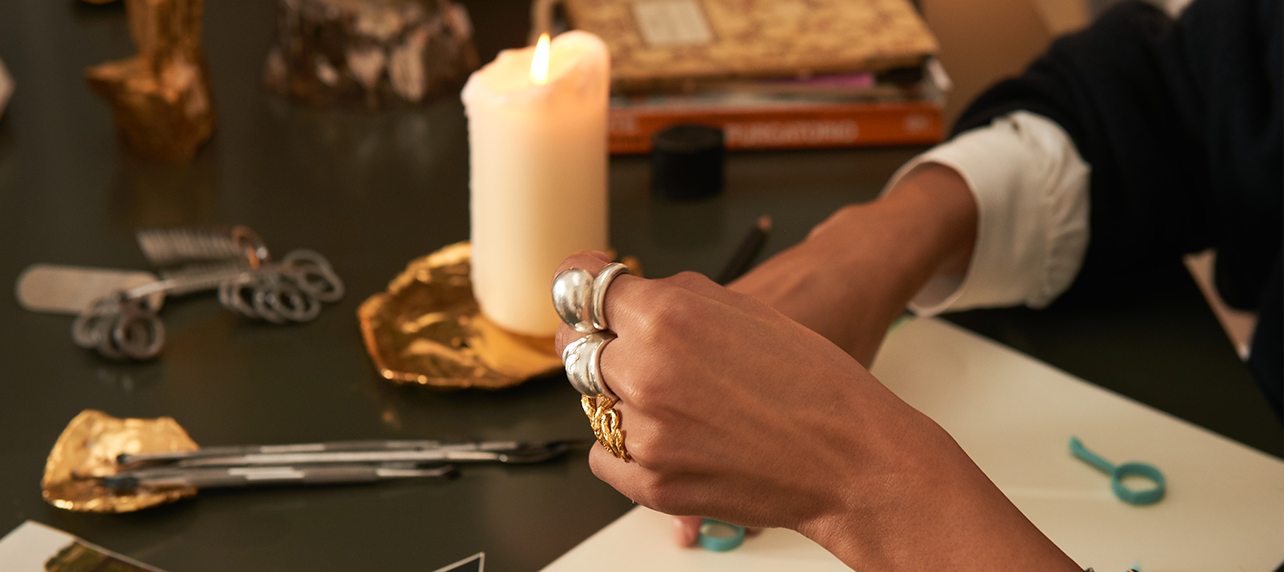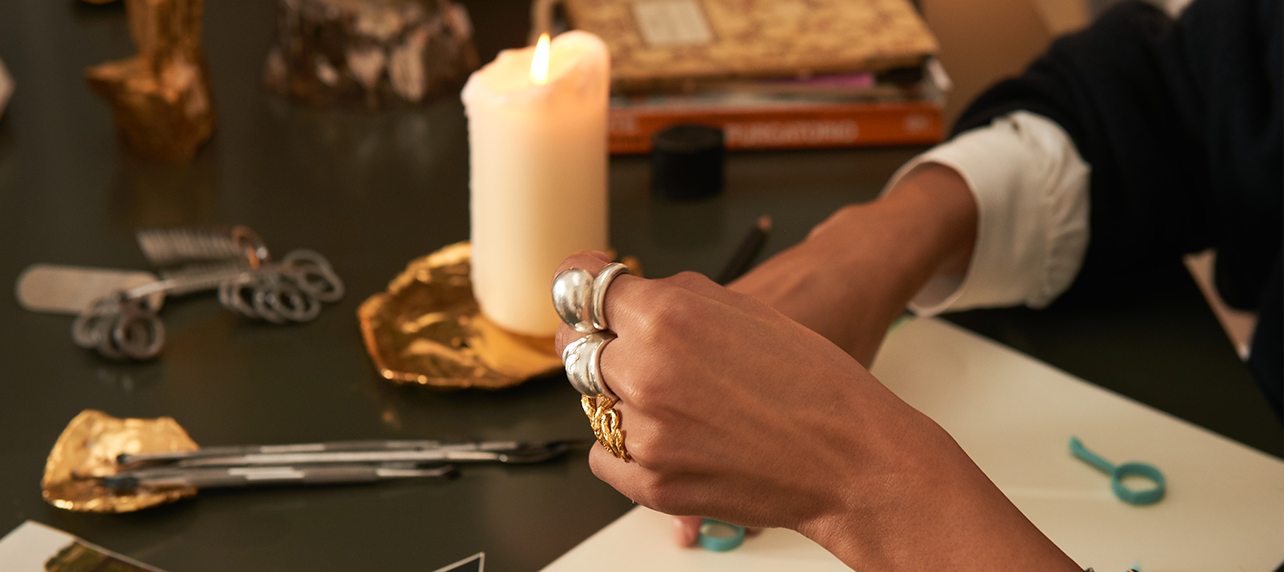 Craftsmanship_
"We believe that if you know the people who made your jewellery, the story behind it and it means something to you, you will keep and treasure it forever." - Rosh Mahtani
From our founder to you, there is a hand behind each step of our process. We work with ancient techniques, local craftsmen and our specialist Hatton Garden design team to create our Modern Heirlooms - each with its own narrative, inviting you to unlock yours.
Our Process_01
The Roman Candle
Each piece starts with Rosh, a Roman candle and some wax. She heats her trusted wax carving tools on the flame of the candle, and begins to carve into the wax. She allows the process to guide her, forming each talisman like a little sculpture -  imbued with emotion and story. 
The fragments of her adventures, Dante's journey and her feelings at that moment are transformed into the signature Alighieri textures.
Move to chapter II to delve into the story.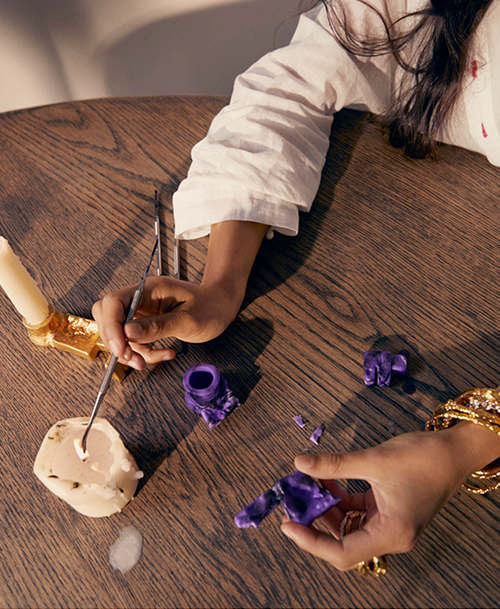 Our Process_02
The Family Tree of Wax
In order to move to the next stage, the individual wax creations are delicately assembled together on a tree…

"I always think of this structure as a family tree of personalities coming together to form a whole." - R.M. 
We work with our local casters to attach each soon-to-be Modern Heirloom the tree core, before it's ready for the alchemy to begin.
Move to chapter III to continue exploring.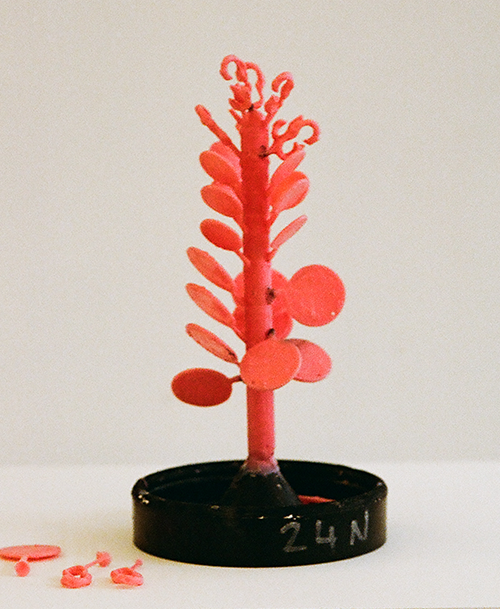 Our Process_03
The Flask
Iron flasks make secure chambers for the wax trees. A white investment is then poured into the flask over the tree to cool and set, enclosing the wax shapes, before the flasks are placed into an oven overnight.
The heat of the oven causes the carefully crafted wax forms to melt, leaving a cavity so no texture of the story is lost. These moulds are now ready for liquid bronze, silver or gold to be poured in.
Move to chapter IV to continue exploring.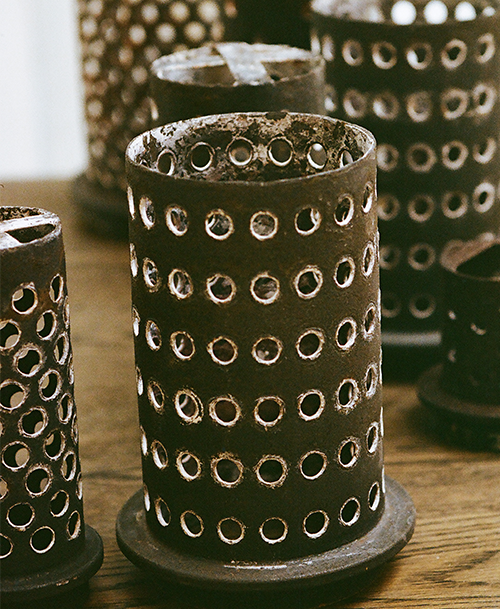 Our Process_04
The Family Tree of Modern Heirlooms
The metal is left within the cavity for 24 hours to set. The white investment is then quenched in cool water and released  from the metal flask. Inside lies a metal tree of magic, waiting to be freed. 
This wax tree was cast in recycled bronze. The Alighieri Modern Heirloom can also be made of 100% recycled sterling silver and 9 - 18 karat gold.
"Dante's Inferno was a cone of Hell. He went all the way to the bottom of the cone, and he had to do that in order to then start climbing up the mountain of Purgatory. This process of destroying something once created in order to build it back up into something more beautiful is a wonderful metaphor for Dante's journey." - R.M.
Move to chapter V to continue exploring.
Our Process_05
The Finishing of the Modern Heirloom
The wax-turned-metal tree is cleaned carefully before each casting is removed from its branch, one by one, ready for the next part of its adventure: pinning, polishing and plating in our signature 24 karat gold.
Watch the Making of Film below to immerse yourself in the process.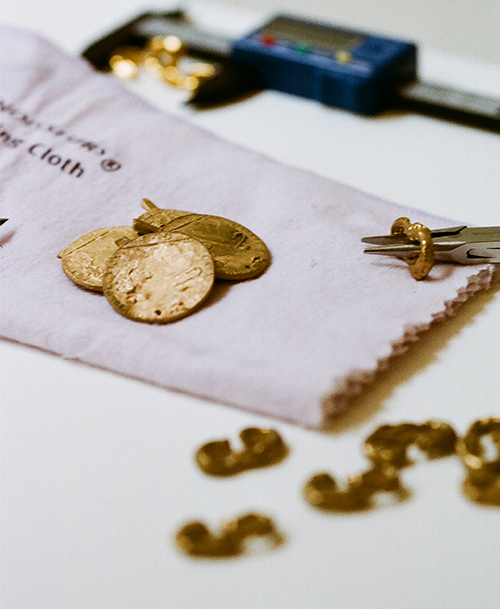 24kt Gold Plated
$1,175.00
24kt Gold Plated
$1,175.00
$1,175.00
$1,175.00